Play Now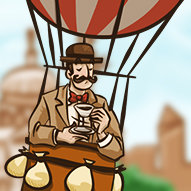 In Hot Air Solitaire, are you ready to take your solitaire skills as above as the hot balloon goes to the sky? If so, challenge your card sequence knowledge from the classic solitaire experiences with a more adventurous theme! No matter if you are a beginner or an expert in this solitaire world, we are one hundred percent sure you are going to love this easy peasy version of this puzzle game! Enjoy!
This game is quite a lot similar to classic solitaire except, it is easier and takes you up high in the sky to a big puzzle adventure as a companion for a real British gentleman! If you are a starter or a big fan of solitaire who wants to improve your skills, let us tell you more about how you play this game. Your objective is to create a sequence from Ace to King like A, 2, 3, 4, 5, 6, 7, 8, 9, 10, J, Q, and K. Choose the card from the deck that you can make a sequence with the exposed card situated right bottom of the screen. When you are out of moves, click on the closed card pile to draw a card until you find one to make a sequence. At the bottom of the screen, you'll see your score multiplier and can increase it by building sequences. Collect the keys to unlock the right column. Good luck!
If you want to try another Solitaire game with an interesting set-up, then be sure to check Spider Solitaire 2.
Developer
Zigiz developed this game.
Release Date
March 18, 2020
Features
Colorful 2D graphics
Solo gameplay
Entertaining and addictive
Creating strategy
Controls
You can play this game with your mouse.