Play Now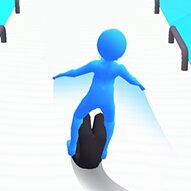 Get ready for an extraordinary ride with Human Vehicle! In this interesting 3D game, you are given a bunch of stickmen to create a different types of vehicles. These will get you to the end of the platform. Can you handle the ride, though?
In this 3D arcade game, you should simply move your stickman towards the end of the platform. But what you are really expected to do is not the same with this aim in essence. During the game, you will see some extra stickmen which you are surely advised to pick up. When you pick up those stickmen, they will form some kind of a vehicle. Starting from a bike, the more you pick up new stickmen, the bigger your vehicle will be. Eventually, you may even get an F1 race car or a truck. On the road, there will be some diamonds to collect and some obstacles to stay away from, too. You can use the diamonds that you collect for good. You can unlock new kinds of vehicles with those. The obstacles will make you lose certain numbers of stickmen. The total number of your men when you're completing the parkour defines how much reward you'll be getting. So, relax now and have fun playing this interesting game in the best way to end up with the best scores!
If you enjoyed playing this different kind of 3D game with stickmen, you should check out playing Stickman Bike Rider here.
Developer
Nepix developed Human Vehicle.
Release Date
November 30, 2021
Features
• Colorful graphics
• Fun and addictive gameplay
• Intuitive skills
• Vehicles to unlock
• More than 50 levels
Controls
You can use your mouse to rotate the stickman and collect the stickmen or diamonds.