Play Now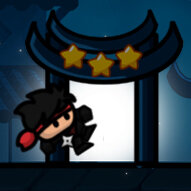 In I am The Ninja 2, it's time to unleash your inner ninja powers! Be ready to run, jump, slide, and fly! You have to avoid all spikes or else you will explode in fresh blood! Will you able to be agile enough to survive and complete all the levels or be killed by sharp spikes? Good luck!
In real life, it is really hard to be a ninja; you should use information wisely, train both body and soul, learn the knowledge in nature, learn a variety of skills, and communicate well. But in this running game, you can be the ninja of your dreams! Your objective is to reach the end of each level and stay alive. You don't have to have ninja skills, but you should be really good at keyboard controls to survive in this game. Click on the screen and start the game, you will use your arrow keys or your mouse to control your character. There will be 15 levels for you to complete. As you proceed with the game and complete levels, the rest will be unlocked. Be careful about the spikes! If you hit them, you will die. Use your up arrow key to jump over the obstacles or slide beneath with the down arrow key. If you need to speed up, you can use the right arrow key, but don't forget to collect stars on your way! If you are ready to run to death, jump into the game! Have fun!
If you want to play more running games, and try another one similar to I am The Ninja, then be sure to check Ninja Run, too.
Developer
kiz10.com developed I am The Ninja.
Release Date
March 28, 2018
Features
15 levels to pass
Entertaining gameplay
Challenging missions
2D graphics
Controls
You can use both your mouse and arrow keys to play this game.