Play Now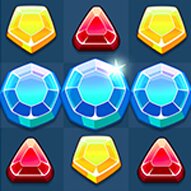 Jewel Blitz is the 4th installment of the popular series, and if you're ready to be dazzled, then click on the play button! Move gemstones around to earn points, rewards, and stars! Are you ready for this colorful adventure?
The young Mayan princess Maya needs to find her people's treasures, and only you can help her, so let's begin! There are dozens of levels for you to complete, but you unlock them one by one by completing the tasks in them. When you click on a level on the level selection menu, you can check which task you need to complete to pass the level. Move around the gemstones and line three or more of the same ones to remove them from the board and earn points. You will encounter various jungle obstacles on your way. But don't worry! Princess Maya is here to help you with these challenges! When there's an obstacle on a level, she will tell you how to get rid of it. You can also use boosters to your advantage, and you can unlock these as you progress through the game. Combining gemstones in certain numbers and formations will give you super gems, and these can remove a group of gems with just a move! Can you find the lost treasure?
Gemstones and stars galore! Be sure to try our other game Yummy Tales by clicking here! Enjoy!
Developer
Azerion developed Jewel Blitz 4.
Release Date
September 17, 2021
Features
Colorful 2D graphics
Dozens of fun and addictive levels to complete
Daily login rewards
Different boosters to use
Controls
You can use your mouse to play the game on PC, or your finger to play on mobile devices.