Play Now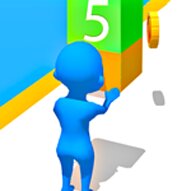 In Join Pusher 3D, be ready for an amazing adventure that you will need teamwork! Without your teammates, you're nothing. To overcome the challenges, you must keep moving with your friends. Collect as many friends as you can and race to the final line. How long will you be able to complete all of these difficult levels? Let's find out immediately if you're interested as well! Have fun!
You're in the middle of a crazy island maze, and you'll need the help of your friends! This is not an adventure that can be done on one's alone. Fortunately, you will have a lot of friends that look exactly like you! To earn a high score in this 3D skill game, you must cross the finish line with as many characters as possible. The blue gates reward you in the sort of the numbers written on each of them. The colored block, as the numbers are written on each of them, takes your friends away from you. Try to stay away from the red figures, since they are your enemies who will murder your friends. The lavas and purple bricks are the obstacles that will cause you to fail right away. When you approach the finish line, collect the stars. The stars will allow you to unlock new skins for your characters, which will make the game even more enjoyable. Good luck and have fun!
Do you want to play more games like this one? If so, take the different challenges in our collection of free and online 3D games.
Developer
YAD.Com developed Join Pusher 3D.
Release Date
June 1, 2021
Features
3D colorful graphics
Several challenging levels to complete
In-game shop to unlock skins
Fun and engaging gameplay
Controls
You can use your mouse or finger to play this game.