Play Now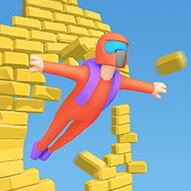 With Jumpero, you are about to get into a brand new jumping adventure! You are controlling a human-like robot here. You must run as fast as you can and outpace your Robo enemies. All you need to do is to jump at the correct moment to come first. So, take your seat and get your fingers ready. If you are up for this race now, let's see what your ranking will be!
Are you ready to jump into the future where robots race instead of humans? They look exactly like us, but they are made of metals. These robo guys have only one objective t follow, and so as you! You must step on the winner's place by defeating the opponents. It is not going to be easy because the challenge is not the speed. The challenge is planning the right time when to jump. Avoid all the obstacles by jumping on them. Click with your mouse or tap on the screen to adjust the angle. Release your finger or the button to jump. If you hit any of the barriers or rolling balls, your speed will decrease, and your opponents go ahead of you. Good luck now, and have fun playing!
We are not over yet! The best is yet to come! Be sure to check our collection of free and online skill games to browse more fun and amazing titles with 3D content like this game.
Developer
YAD.Com developed Jumpero.
Release Date
July 26, 2021
Features
3D colorful graphics
Futuristic theme and backstory
Simple controls
Fun and addictive gameplay
Controls
You can use your mouse or touch controls to play this game.