Play Now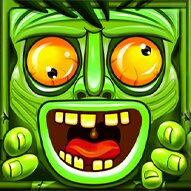 Be the evil monster created by a twisted experiment and chase off wandering eyes with Jungle Run OZ! Play as a zombie that waited so long to be released and finally free to run wildly! Collect potions and unlock and upgrade new characters, your castle, and the shop!
Alarm, intruders! Rise from the dead and protect your territory from the curious living. You are free to take a small bite if you can achieve to catch them! Dodge traps, take turns at the right time, and collect diamonds and green elixirs to upgrade in-game features. Don't let your victims run away. Turn into a mutant monster and get a speed boost you can use to get closer to your prey. Unlock treasure chests and use your newly earned materials to upgrade your income. Use the potions to upgrade your mutated form and unlock new character skins. Brace yourself for a brand new world, and get out of your lab! Jump, duck, and dodge to your right or left; do not let deadly traps or parting ways distract you from getting that sweet revenge! Get better with every try and beat your personal best repeatedly. Collect spooky materials and upgrade your castle to its final form!
If you like this deadly running game, you can check out Temple Quest and experience the game from the victim's side!
Developer
No Outlinks developed Jungle Run OZ.
Release Date
March 4, 2022
Features
Realistic 3D graphics
Funny character design
Unlockable content
Improving reflexes
Available on mobile devices
Controls
You can use the arrow keys to play this game.