Play Now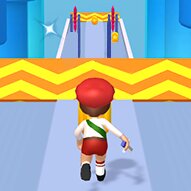 Fight an ever-growing army of monsters in Kill the Monster! Collect gold and pass deadly obstacles to reach the battle you are destined to win! Dress your warrior the way you like and fight fashionably! Enormous swinging axes or gigantic tortoise monsters are nothing compared to your reflexes and quick clicking skills!
This mustachioed swordmaster has everything; you just have to decide where he walks. Eye the road and watch out for threats. Quickly swipe left or right to switch rows and avoid dangers. Collect as much gold as possible as they come in handy at the store. Reach the boss fight safely, and don't let the giant intimidate you with its size. Trust your fighter just like you trust your fingers, and start clicking. That's right; click as fast as you can so your warrior can build up the strength to land his best blows! Take the biggest beasts down and move on to the next challenge. Sign in daily to continue this journey and earn even more gold by doing so! You can always drop by the shop and unlock new clothes, hats, and weapons for your character. Advance through the rookie monsters and beat the ultimate boss!
If you like this addictive obstacle course, you can check out Swipe Runner and choose the best vehicles to beat your opponent!
Developer
wey.game developed Kill the Monster.
Release Date
March 23, 2022
Features
Vibrant 3D graphics
Easy to play
Challenging boss fights at every level
Available on mobile devices
Controls
You can use your mouse to swipe left and right.