Play Now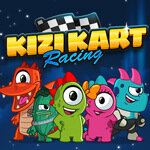 In Kizi Kart, it's time to join a fun and challenging race tournament with your favorite alien character! Kizi and his friends have decided to race against each other, and there you are! Featuring 3 different tournaments and various tracks to beat, do you have what it takes to win the cups and earn the bragging rights?
Don't expect ordinary race tracks in this game, and get ready for an extraterrestrial twist! With various obstacles and power-ups on your way, winning each race is about skill and taking risks. Your objective in this game is to win each race by being the player to finish the last lap in the first place. Click on the play button on the main menu to start the game. You start in the first tournament, and you need to unlock the others to participate in them. Pick the first race and you're ready to head to the race track. After the countdown, everyone will floor their gas, so try not to stay behind. Use your UP arrow key to drive and the LEFT and the RIGHT arrow keys to move to sides. Try to avoid crashing into your opponents and stay away from obstacles. You'll collect power-ups, and can activate them by using the SPACE BAR key. Good luck!
If you enjoy riding around in vehicles, then be sure to check our collection of car games by here. Have fun!
Developer
Funtomic developed Kizi Kart.
Release Date
April 30, 2018
Features
3 different tournaments to play
5 different racers to choose
15 races that you can play
Entertaining gameplay
Controls
Use the arrow keys to control your character. Press the SPACE BAR to use a power up.