Play Now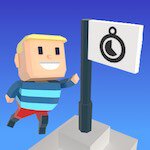 In Kogama Reach the Flag, the race is about to start so get ready to take your place by the start line. Join other players around the world for a friendly, fun, and challenging race in a colorful and 3D world filled with various obstacles. Can you be fast on your feet and beat your own record?
Your objective in this game is to reach the flag in the shortest time possible. The race track is filled with various obstacles that you need to overcome. Start the game by clicking on the play button on the main menu. When you enter the game world, keep your eyes on the countdown. Once it reaches zero, you better start moving because your timer is! You can check the timer from the top of the screen. Run through platforms and jump over the gaps. Don't forget to activate the checkpoints. If you fall from the platform and die, you can start from your latest checkpoint and continue the race. Pay attention to your surroundings. While others are trying to climb and run, you might find a shortcut! Follow the arrows if you don't know which way to go. Reaching the final flag ends the game and you'll see your completion time. You can play as many times as you can! Enjoy!
For more fun and challenges, be sure to visit our collection of free and online racing games by clicking here. Good luck!
Developer
Kogama developed Kogama Reach the Flag.
Features
Colorful 3D graphics
Intuitive controls
Online multiplayer gameplay
A fun level with different obstacles to overcome
Controls
Use the WASD keys to move around and the SPACE BAR to jump.