Play Now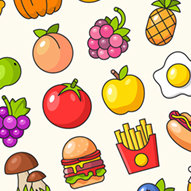 Kris Mahjong Remastered is a fun puzzle game in which you can test your attention and keen eyes! Tiles decorated with colorful images of tasty foods are waiting for you to connect them! Do you think you have what it takes to remove all the tiles from the board before your time runs out?
Look at all these tiles! There are so many of them, yet you have so little time to earn as many points as you can! So let's start playing now! You only need your mouse to play this game, and your objective is very simple. All you need to do is to clear as many tiles as you can to earn a high score before your time runs out. When you start the game, take a look at the tiles and spot the identical ones. Then click on one and then the other to link them to each other so they'll be removed. Keep in mind that you can only link two tiles at once and if there are no other tiles between them. With each tile you remove, you'll earn points and seconds. Check the timer on the right side of the screen, and be quick! Have fun playing!
Click here and check our other popular and fun game Cube Mania next. Enjoy!
Developer
Feig LTD. developed Kris Mahjong Remastered.
Release Date
December 14, 2020
Features
Colorful 2D graphics
Entertaining and addictive gameplay
Intuitive controls
Different tiles to connect
A time limit to race against
Controls
You can use your mouse to play this game.