Play Now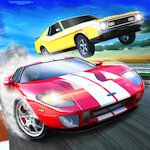 In Lamborghini Car Drift, it's time to leave your mark on the asphalt. Get into your fast car, fasten your seatbelt, and get ready to show your amazing driving and drifting skills through a dozen of fun and challenging levels. How well do you think you can perform?
The race tracks are ready, and the only thing missing is you! The objective of this game is to complete each level with three stars by being as fast as you can. To start the game click on the play button on the main menu. Next, you'll visit the garage. Here, you have 5 different cars to choose from, but in the beginning, only the first one is available to you. You can unlock the rest with the coins you earn as you play the game and complete levels. Each car has different stats, so try to unlock them all. The game features 10 different levels and you unlock them one by one as you play. To complete a level, you should drive through multiple markers without destroying your car by crashing into obstacles. With each crash, you'll add 5 seconds to your time and your car will get damaged. The faster you finish a level the higher score you'll get. If your car gets enough damage, it'll break down and you'll have to start the level from the beginning. Good luck!
For more games like this, visit our collection of free and online car games.
Developer
New Gamer developed Lamborghini Car Drift.
Release Date
March 25, 2019
Features
Colorful 3D graphics
5 different car options to unlock and use
Intuitive controls
Entertaining gameplay
10 different levels to complete
Controls
Use the WASD keys to move your car and the SPACE Bar for braking and drifting.