Play Now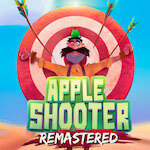 In Apple Shooter Remastered, it's time to show your amazing marksman skills by taking part in an exciting challenge! You've found a volunteer to perform one of the oldest tricks, shooting an apple on top of a person's head. Their knees might be shaking, but you trust your steady and precise aim. Do you have what it takes to pass all the levels and prove your talent to everyone?
Keep your hands steady and let the arrow fly and pierce the bright red apple standing the top of your friend's head! The objective of this game is fun and simple! All you have to do is to pass each level by hitting the apple with your arrow. You don't have to be a real-life archer to be successful in this game! You can use your mouse to adjust the aim and the power of your shot. In the top left corner of the screen, you can check the power and the angle of your shoot. When you think you have the perfect stance, click on the screen to shoot your arrow. If you miss, you can try again. If you hit the apple, you'll pass the level. But if you hit your friend, he'll die, and you'll lose and have to start from the beginning. Click on the screen to try again. Each level becomes more difficult, so be careful and good luck!
Challenge yourself and test your skills in our collection of free and online skill games. Have fun playing!
Developer
Agame developed Apple Shooter Remastered.
Release Date
June 27, 2018
Features
Colorful 2D graphics
Intuitive controls
Multiple levels to complete
Entertaining and addictive gameplay
Controls
You can use your mouse to play this game.