Play Now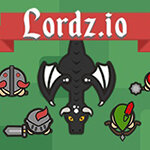 In Lordz.io, the shadow of the dark fortress rises in the middle of the land. As one of the lords of the realm, you're sworn to protect the land and its people. But just like you, there are many other lords in the surrounding kingdoms.
Featuring various mysterious creatures from dragons to dark sorcerers, you'll encounter many different characters in this mythical world. So rally your men and get ready to face the dangers. Your objective in this game is to be the player with the biggest army. To build up a massive army, you need resources. You'll see gold coins scattered around the map. With these coins, you can train your soldiers. You have 9 different unit types that you can summon. Each of these units provides a different advantage on the battlefield. Apart from the units, you can also place buildings. Build houses to increase your population. Running out of gold? Explore the map and find mines. Place guard towers to protect your buildings from the attacks of your enemies.
If you enjoyed this game, be sure to check the other game in our collection, Lordsz2. io by clicking here. Have fun playing!
Developer
Lordz.io is developed by Spinbot Studio.
Release Date
November 2017
Features
Build a massive army
Defend your base from enemy attacks
Variety of units to summon
Different buildings to place
Controls
Move your mouse to control your character. Press the E key to build a house, the R key to build a tower, the T key to summon a soldier, the Y key to summon a knight, the U key to summon an archer, the I key to summon a barbarian, the O key to summon a dragon, the space bar to split army.