Play Now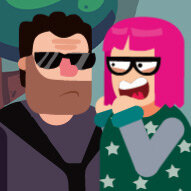 In Love Pin Online, damsels are in distress, where are the brave men? Just when you got together with your Juliet, life happened and she was kidnapped to a castle. You may just be an ordinary guy but there's no way you'll let them take away your love. Venture into the castle and try to save the girl of your dreams. Are you ready for this adventure?
Once upon a time, in a country far far away, there lived a boy and a girl. These star-crossed lovers loved each other deeply, but fate got in the way. Bad guys kidnapped your dream girl and locked her away in the highest room of the tower. You don't need to be a knight in shining armor to save the girl. Your courage is important, for sure, to get rid of the bad guys. However, there is something that's even more important than that, your wit. In this fun game, you need to solve all the puzzles to save the girl. All you need is your mouse to play. In the castle, you'll see many pins that block the obstacles and you. Click on the right ones to pull them and reach the girl on time. Pull the wrong ones and your love will live as a legend only. Get rid of bad guys and deadly liquids in each level and get hold of the treasure in the castle. After all, diamonds are a girl's best friends. Have fun playing!
Play Love Pins now if you're looking for another game like this one. Enjoy!
Developer
kiz10.com developed Love Pin Online.
Release Date
April 07, 2021
Features
Fun and addictive gameplay
Many levels to complete
Intuitive controls
Nice 2D graphics
Controls
You can use your mouse to play this game.