Play Now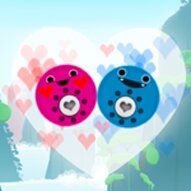 Bring two lovers together and let them be happy in Love Totems! These two little balls are apart from each other, and they want to unite so bad. There are many obstacles before them, though. They need someone who understands them and someone to brşng them together. Can you be that helping hand in uniting these two little balls?
In this puzzling skill game, you will have a series of puzzling platforms where you need to unite the blue and the pink ball. Our cute characters are in love. But they are put in different parts of the systems and this makes them sad. So, to make them happy, get your hands on the job. Our characters are kept behind the pins, and there's a sensitive balance of things. When you click on a pin, the bar opens. Later, with gravity, anything in that area falls. You can use this logic to drop the blue ball on the red ball or vice versa. But on many levels, there are some obstacles. You need to keep our little precious pink and blue ball away from falling, the fire, and the red block. So, build your strategies accordingly and unite the pink and the blue ball by eliminating all dangers!
If you enjoyed playing Love Totems, you should also check out our collection of free and online skill games by clicking here.
Developer
DAB3Games developed Love Totems.
Release Date
August 20, 2021
Features
2D colorful graphics
Easy and relaxing controls
Multiple levels
Intuitive controls

Controls
You can use the mouse of your computer or the touch screen of your mobile device to move the pins.