Play Now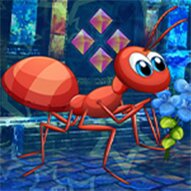 Our dear friend Lovely Ant is locked up in a creepy town and in need of our help with Lovely Ant Escape! Use your mind to solve mysteries, find keys, and set her free! Unlock hidden secret compartments, find objects crucial to the story, and solve the mystery of this ghost town to set her free!
Little Lovely Ant set out to pick up some spring flowers, but she lost her way and ended up in a ghost town. Still wandering, she found a tiny space and got herself locked in. Apparently, the only way out is someone's help from outside. That someone is us! Finding her way out will not be so easy, so clean your mind and focus on your surroundings. Everything you see might be of help. Any random color or item that seems irrelevant might mean something in this puzzle world. Memorize hints and try them wherever you think they might work. Activate contraptions, break messages open, and find parchments with leads. Discover color codes and get help from numbers in your mysterious journey. Collect animal idols to unlock the main doors and find a use for everything you have. Can you help your friend return home?
If you enjoy solving mysteries to find Lovely Ant, you can check out Singing Bird Escape and help another friend out of a dark city!
Developer
GAMES4KING developed Lovely Ant Escape.
Release Date
August 7, 2020
Features
Colorful 2D graphics
Fun and exciting story
Challenging puzzles
Improving logic skills
Easy to play
Controls
You can use your mouse to play.