Play Now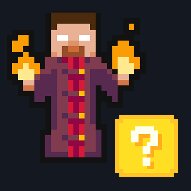 Magic Herobrine wants the golden box to himself, and he won't stop until he lays his magical hands on it. Flex your brain muscles and help with a little strategy to channel Herobrine's spells to the right target. Blow things up, make boxes disappear, all is fair for him to get his box!
Meet Herobrine; he is a tiny, magical pixel guy who can bend everything in his will but chooses to disappear stuff to get to his goal. Or rather, bring his goals to his lazy feet, but who can blame him for having these fancy powers allowing him to do so? He can deal with the magic part of the puzzles on his way to these golden mysterious boxes, but the planning part is not really his thing. He can make everything made of wood disappear into thin air. He can also blow up barrels from a distance. Your job here is to choose the order he does these things in such a way that the gold box will end up at his feet. Of course, there will be times that involve precise timing and sharp reflexes, but there is nothing you two cannot handle. Can you pass more than one hundred of these equally challenging and addictive puzzles?
If you are into all kinds of brain workouts, you can check out our Puzzle Games category by clicking here.
Developer
Stickman vs Monster School Team developed Magic Herobrine.
Release Date
April 8, 2022
Features
Easy to play
More than 100 puzzles
Improving puzzle and timing skills
Available on mobile devices
Controls
You can use your mouse to play this game.