Play Now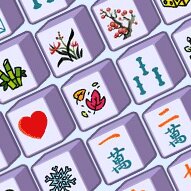 With Mahjong Connect Deluxe, get ready for a premium Mahjong experience! This Chinese puzzle game, which is listed under link-2 games, Mahjong, is highly played by millions of players every day! Here is a deluxe edition of this game for you to enjoy from top to toe. It also has more hints and time freezes to help you clear the board. If you are ready, then let the game begin!
If you are familiar with this puzzle game, we are sure you will be locked in front of the screen for hours of fun. If you are a Mahjong beginner, let us explain to you the rules a little. In this fun linking adventure, your objective is to clear the whole board by linking 2 same tiles. The first challenge you will face is that all the tiles look like each other, which is a little confusing. The second challenge is that you can only connect the tiles between which there is no another blocking tile. The third challenge is the time limit! You can see your time bar at the top of the game screen. Once your time runs out, the game is over. But don't worry. You can also see your boosters below. You can use them to freeze the time or see the tiles that can be linked. Good luck and have fun playing!
If you enjoyed this interesting puzzle game, we have another one for you with an interesting theme again! Be sure to check Mahjong Alchemy by clicking here.
Developer
Agame developed Mahjong Connect Deluxe.
Release Date
June 16, 2021
Features
2D colorful graphics
Hints and freezing time
Several levels to complete
Fun and engaging gameplay
Controls
You can use your mouse or finger to play this game.