Mary Knots Garden Wedding Hidden Object
Play Now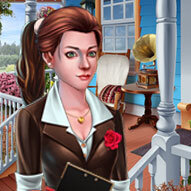 In Mary Knots Garden Wedding Hidden Object, travel with Mary to her parent's house. It's has been a while since Mary last came here but the place still looks the same. The only problem is, it's a bit messy with all these objects scattered all over the rooms. Do you think you can find all of these hidden items in this puzzle game?
When you want to change your career and a good opportunity presents itself, you take it. That's exactly what happened to Mary when she visited her family's home. Just when she decided to clean up the place, her old friend Emma came up with a request. Emma's client wants to throw her daughter's wedding in Mary's house's garden which is great since Mary wants to become a wedding planner. Your objective is to help Mary save some money to turn this house into a great wedding venue. To make money, you need to sell some of the stuff in this old house. Our character published some ads on social media and now customers come flocking through her front door. You need to find all the items the customers want as quickly as possible to make more money. You need to complete each level before the timer ends or if you want, you can choose the relax mode to play without the timer. There are also match-three games to collect some antique items that you can sell to make more money and buy new stuff for the wedding. Have fun!
Looking for more games like this one. Then you can check out Home Makeover Hidden Object. Enjoy!
Developer
Origaming Media developed Mary Knots Garden Wedding Hidden Object.
Release Date
May 21, 2021
Features
Well-developed backstory
Nice 2D graphics
Intuitive controls
Fun and challenging gameplay
Mini match-three games
Controls
You can use your mouse to play this game.