Merge Cannon: Chicken Defense
Play Now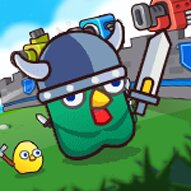 In Merge Cannon: Chicken Defense, the henhouse decided to riot and the field is filled with an angry mob of chickens! Are you ready to put these birds in their place with your advanced defense system?
These chickens were suspiciously silent during their whole existence, and now they've shown their true colors! With their rustled feathers and angry clucking, they're here to put up a fight! Your objective in this game is to defend your field as long as you can with cannons. On the right side of the screen, you can see your cannon slots just behind your defensive wall. Use the button at the bottom to buy cannons. You start with simple weapons, but you can merge two of the same-level cannons to get a more advanced one. From the left side of the screen, your enemies will enter the field with their pitchforks and torches! Defeating chickens will reward you coins, and you can use these to buy and unlock cannons, and upgrade your stats. Merging cannons will give you experience points, and you can level up. Leveling up rewards you with big sums of money, so merge as many cannons as you can. As you level up, you'll face more challenging enemies. Can you keep up with them and protect your land?
Check our other amazing strategy games to try more fun and addictive titles just like this one! Have fun playing!
Developer
Tiny Dobbins developed Merge Cannon: Chicken Defense.
Release Date
October 14, 2021
Features
Colorful 2D graphics
Dozens of cannons to unlock
Different upgrades to apply
Entertaining and addictive gameplay
Intuitive controls
Controls
You can use your mouse or the touch controls to play this game.