Play Now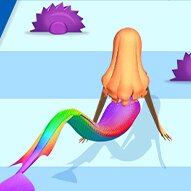 Have the longest tail in the whole underwater world in Mermaids Tail Rush! You will find yourself driven in the magical and secret world of mermaids with this game. The reason why you're here is clear; to help our mermaid swim her way and get a long, beautiful tail. Are you ready to help her?
Start swimming with this beautiful mermaid deep underwater. With this game's amazing 3D graphics, you will soon find yourself adapted to this magical world. Once you're deep there, you will have one main goal. When our mermaid is swimming through the long platforms full of obstacles, you will guide her. Since she wants to have the longest tail in the mystical world of mermaids, she must keep away from the dangerous obstacles that will cut off her tail. Instead, she must swim over the colorful tails and make her tail longer by collecting them. So, can you lead her in the best way and swim through many levels with her?
If you enjoyed playing Mermaids Tail Rush, you should check out playing Sky Roller by clicking here.
Developer
YAD.Com developed Mermaids Tail Rush.
Release Date
December 13, 2021
Features
• 3D colorful graphics
• Intuitive controls
• Entertaining and addictive levels
• Multiple levels to complete
Controls
You can use your mouse to move the mermaid and collect the tails.