Play Now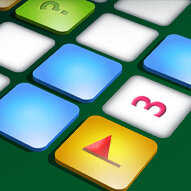 In Microsoft Minesweeper, an all-time favorite classic game returns again to your browsers! The game that everyone loves to play is back with better graphics and sound, yet the feelings you'll get when you are playing will still be the same. Are you ready to play minesweeper once again?
It's time to take a trip down the memory lane and let nostalgia hit you right in the face. Play a classic game that you love and know with the same excitement and thrill of the first day. These gray squares may look innocent but they are anything but. Beneath this gray ground, death and destruction await you. That is if you find the mines. Your objective is to clear the board without detonating any of the mines. There are 3 difficulty levels in this game and you can start with the easy one and work your way up to the expert level. Click on one of the squares and reveal a part of the board. The numbers you see indicate how many mines touch that square. Use your logic and interpret the clues to clear all of the board. If you detonate a mine, the game is over. Have fun playing!
Are you a nostalgic person? If so, you should definitely check out Zoo Pinball and play the new version of the classic game that everyone loves! Enjoy!
Developer
Microsoft developed Microsoft Minesweeper.
Release Date
April 08, 2021
Features
Fun and addictive gameplay
Nice 2D graphics
3 different difficulty levels
Intuitive controls
Controls
You can use your mouse to play this game.