Play Now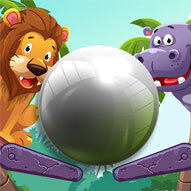 In Zoo Pinball, the classic arcade game that everyone loves to play is back with a new version! Featuring nice 2D graphics and a zoo theme, this game brings back the old-school fun! Only this time, you don't have to have the pinball machine. All you need is your computer. Are you ready to start this fun adventure?
Travel to a pinball saloon from your browser and become a part of this zoo. Your objective is quite simple for those of you who are familiar with pinball. You need to score as many points as you can by hitting targets and keep playing for as long as you can. The ball will appear at the bottom of the screen. You need to press SPACE BAR to launch it. Onwards into the jaws of the lion, hippo, and the mighty tiger! Try to hit the bumpers and the other objects to score points. If the ball reaches the bottom of the screen, try to hit it with paddles on the bottom left and right. If the ball falls down the middle, you can keep playing with the remaining two balls. Do you think you'll be able to beat your own high score?
If you want to play another old-school game, you can check out Atari Missile Command by clicking here. Enjoy!
Developer
Inlogic Software developed Zoo Pinball.
Release Date
March 10, 2021
Features
Nice 2D graphics
Fun and addictive gameplay
Intuitive controls
High score to earn
Controls
You can press the SPACE BAR to launch the ball. Press left and right arrow keys to use the paddles.