Play Now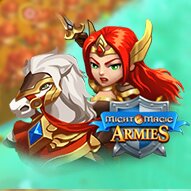 Build your dream army commanded by Might and Magic characters, attack other players, and convert them into your men with Might and Magic Armies! Log in every day for surprise prizes, choose your commander a worthy name and carry it to the top of the global leaderboard!
Welcome to an exciting reunion with the most famous Might and Magic characters! They all have their special abilities as commanders waiting to be unlocked later in the game! You can try entering the server as a tutorial match before unlocking any characters to get a clue about which power works out for you the best. In this magical map, we collect bronze, gold, and silver helmets that bring your power equal to their worth. Every new helmet adds to your total battle points, less or more. Avoiding other players' armies at the beginning is a great tactic, but attacking and defeating armies weaker than yours also earns you more points. Get gold for every fallen enemy and save them to unlock new characters. Try each one of them and find the perfect strategy for your army. Check local and global scoreboards and keep your goals up!
If you like this online territorial war, you can check out Paper.io and try to steal land from other players!
Developer
Ubisoft developed Might and Magic Armies.
Release Date
February 14, 2022
Features
Colored 2D graphics
Played world-wide
Unlockable character options
Daily rewards
Local and global leaderboards
Controls
You can use the arrow keys, your mouse, or "W, A, S, D" to play.