Mine Shooter Monsters Royale
Play Now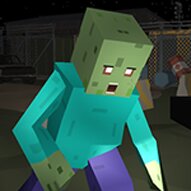 Catch evil monsters and punish them with heavy weapon options with Mine Shooter Monsters Royale! Dive into a creepy atmosphere with realistic 3D surroundings and silently sneak up on your enemies! Score headshots and reach the aimed numbers before they hunt you down!
Get ready for a scary journey where you are the hunter. You are put on a deserted map with the undead and a creepy murderer mascot. At least you have the weapons they don't. Before getting to the maps, you can see the gun options. Come back here when you have earned enough money to give your attack power an upgrade. Now you can choose between three huge maps: Night Suburbia, Construction Site, and Battle Royale. The next scene gives you a list of the levels waiting for you on that map. Each map has ten levels that get harder constantly, but this is a chance for you to better your aim and hold on to your life tighter! Jump into the game, check your health and ammo displayed at the bottom left and right, and reach the goal shown on the top left. Can you survive in a strange land filled with deadly creatures?
If you would like to carry the revenge to the next step and take it all out on the mascot, you can check out Kick the Huggie Wuggie and try all sorts of punishments on this cold-blooded criminal!
Developer
kiz10.com developed Mine Shooter Monsters Royale.
Release Date
April 14, 2022
Features
Colorful 3D graphics
Scary atmosphere
Three maps
Thirty levels
Available on mobile devices
Controls
Use "W, A, S, D" to move, spacebar to jump, mouse to aim and shoot, left shift to run, CTRL to crouch, "F" to use item, "R" to reload, and "G" to throw a grenade.