Play Now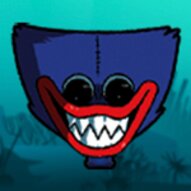 We all know that Huggie does not just want a hug, and Kick the Huggie Wuggie gives you the opportunity to show that lying monster what he deserves for scaring people! You might have had a bad day at school, maybe you argued with your friends, or have been wronged in some way. You can take it all out on this nightmare fuel!
In this realm, you serve the attacks, and he stays there, taking every blow hopelessly. There is no need to worry about a possible comeback, you can feel safe and focus on the revenge part. You were being chased by this creepy mascot for a while, but the tables have turned, and now you got him. We are getting to the best part. You can start by throwing him around and get gold for your every blow until he breaks up. Throw him to walls, punch and kick him, make him pay for all his sins! You can earn gold for every hit you land on him and use your money to unlock weapons, bombs, and other instruments that can be used to punish him even more. Enjoy the fun music and the satisfaction a good vengeance gives.
If you are into guns, you can check out our Shooting Games category by clicking here.
Developer
kiz10.com developed Kick the Huggie Wuggie.
Release Date
April 7, 2022
Features
Colorful 3D graphics
Fun and uplifting music
Relaxing experience
Easy to play
Available on mobile devices
Controls
You can use your mouse to play this game.