Play Now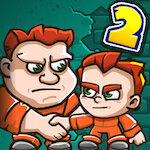 In Money Movers 2, join the criminal brothers and go back to the prison to save their father. Featuring levels filled with security guards, cameras, and many other challenges, can you help this duo to overcome each obstacle?
Breaking out from the prison was an easy job. But breaking in into one has different challenges that these brothers are not familiar with. Your objective in this game is to complete each level by solving puzzles, pushing buttons, and pulling levers without getting caught by the guards. This prison houses many dangerous criminals, so expect tight security measures. You can control both the characters by yourself, or play with a friend by sharing a keyboard as each of you control a character. The small brother is more agile and can fit through narrow passages and run through lasers without setting the alarm. The big brother is the stronger one, and he can lift and throw objects to clear the way. There are 20 levels in the game. Try to collect all the money bags to unlock a bonus level! Enjoy!
Do you love action? Then go ahead and check the other games in our collection of free action games. Have fun playing!
Developer
Meow Beast developed Money Movers 2.
Release Date
March 2015
Features
20 challenging levels to complete
Can control two characters
2D graphics
Entertaining gameplay
A bonus level you can unlock
Controls
Use the WASD keys to control the small brother. Use the arrow keys to control the big brother.