Play Now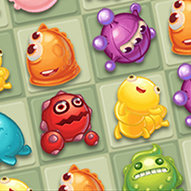 In Monster Temple, the only way out is completing the challenging levels by fighting against time! In this fun match-3 game, you need to move fast as you can while sliding the tiles. These little creatures are totally a pain in the neck! To get rid of them and proceed with the other levels, you should slide the tiles and make them green. If you believe you can defeat them in the given time, let the game begin!
Are you ready for a big temple filled with little but annoying monsters? You better be! Because in this fun puzzle game, your objective is to slide the tiles and match at least three same monsters. Once you match the same monsters, the tiles turn green. You will not be able to slide only one monster but the whole row or line together. You can slide them upside-down or across. You have a limited time to complete each level. Check your timeline on the right side of the screen. As you match the monsters, you gain a little bit of your lost time. As you proceed in the game, you will face some obstacles, such as locked lines or rows that you cannot move. You will be earning stars depending on your speed. Good luck and have fun!
If you want to try another game similar to this one filled with precious jewels rather than cringe monsters, you can check Skydom by clicking here.
Developer
Azerion developed Monster Temple.
Release Date
April 24, 2017
Features
2D colorful graphics
100 adventures to complete
Simple controls
Entertaining 3-match gameplay
Controls
You can play this game with your mouse.