Play Now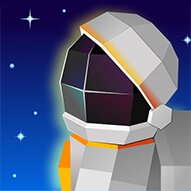 Colonize on the moon, use resources and energy strategically, and find fuel for your space rocket with Moon Mission! Keep your fellow astronauts happy and active, oil stations running, and plans ready. Use the limited energy of your workers wisely and get out of this grey satellite as fast as you can, or take your organization one step further and provide for them!
You and your coworkers have run out of fuel and are now stuck on the surface of the moon. As hitchhiking is not an option, you should find your own fuel in the middle of emptiness. Fortunately, you have enough to build an oil station and people to provide energy to keep it running. As for the people, we will come back to that matter later. Use the manufactured oil to open more spots for other workers to join the making process and speed things up. You can build a second base that uses oil to mine new resources and use them to build a greenhouse. Feed your exhausted workers and collect the energy to power up your spaceship. You can always get a reward by watching an ad and start the level with a boost!
If you like using the power of foresight and planning your way out of problems, you can check out our Strategy Games by clicking here!
Developer
2Play developed Moon Mission.
Release Date
April 14, 2022
Features
Colorful 3D graphics
Challenging levels with increasing difficulty
Easy to play
Addictive puzzles
Available on mobile devices
Controls
You can use your mouse to play this game.