Play Now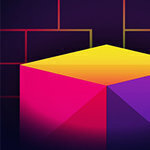 Neoblox welcomes you to a Tetris-like colorful adventure! Are you in for a fun puzzle game that will give you the vibes of the early 2000s? With various shapes and colors, be ready to spend hours and days for this endless enjoyment! Then, place the blocks and clear the rows all that are! Now take your seat and start the adventure already!
Ready to catch the newest version of the vibe coming from the 2000s? With this fun puzzle game, it is so possible! With new features and challenging sets of blocks, you are going to be addicted to this game! In this fun Tetris-like puzzle game, your objective is to create full rows by using the different shapes you see below. Once you complete a row, it'll turn into a colorful image like a rainbow! If you place one of the shapes in the first 2 lines, it'll lower down the grid. You can get stuck, but no worries! At the top of the screen, there is a converter button. You can use it to change any block you have into another shape. Now, let's see how many you can complete before you run out of coverts! Good luck and have fun!
If you want to try another puzzle game as colorful as this one, then be sure to check Arkadium Bubble Shooter.
Developer
NanoTribe developed this game.
Release Date
January 3, 2020
Features
Colorful 3D graphics
Several blocks and shapes to be used
Daily rewards to win
Endless entertainment with simple control
Controls
You can play this game with your mouse or your finger.