Play Now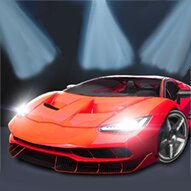 Enjoy every new experience Night City has to offer with Night City Racing! Discover secret tracks and treasures with the free ride mode, join car races, and roam this exciting and futuristic city freely at night! Race against planes in challenges and dive into a military base armed with missiles ready to be fired at you!
Welcome to the dream city of speed challenges! You can choose to check out the garage and pick up one of the two unlocked starter cars, unlock another car within your budget, or set a vehicle goal for the future and drive to unlock your dream car! You have three game mode options ahead of you; Career Races that get increasingly difficult with every new level, Challenge mode in which you race against challenging conditions, and Free Drive which allows you to drive around the city freely. You can invite a friend for any of these modes, and play against each other and the game bots. The career races put you against four other professional racers, while the challenges match you against a plane or test you with impossible tracks. Don't forget to try the Free Ride to explore the surprises hidden in the deepest corner of Night City!
If you like this 3D racing game, you can check out Traffic Jam 3D for a highly detailed driving simulator!
Developer
RHM Interactive developed Night City Racing.
Release Date
June 9, 2022
Features
Stunning 3D surroundings
Exciting and fun game modes
Unlockable car options
Vehicle upgrades and customization
Unique racing tracks
Controls
Single-player: Use "W, A, S, D" to move and shift for nitro boost.
Multiplayer: P1 can use the arrow keys to move and "M" for nitro, while P2 can use "W, A, S, D" to move and shift for nitro.