Play Now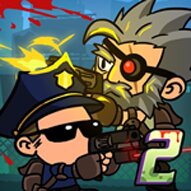 With Zombie Gunpocalypse 2, get ready for the biggest battle of your life! It is you vs. the undead! There will be only one winner after tonight. Who is gonna be the lucky one? Grab all your weapons, load the ammo inside, and guard your courage. If you fail, you end the whole of humanity. If you are ready to show off your shooting skills now, then let the game begins!
The zombies are real, and they are here to take you down! But you must survive no matter what. Whatever you do, don't be unarmed among them. In this spooky zombie game, the objective is to shoot all the zombies. There is one problem, though! You have a limited amount of ammo! So, you must take your shots so carefully that you won't leave any zombies behind. You earn coins for each zombie you kill. You can use your earnings to unlock different characters and new weapons from the in-game shop. If you run out of ammo, you should repeat your current level to move on to the next one. Track your remaining bullet from the bottom of the game screen. Plan your moves carefully. You can use the environment and other items to hit two targets with one arrow. Have fun playing!
Have you tried the first adventure of this popular undead series? If so, you must try it right away! Get into the Zombie Gunpocalypse by clicking here now.
Developer
kiz10.com developed Zombie Gunpocalypse 2.
Release Date
August 12, 2021
Features
2D colorful graphics
Several challenging levels to complete
Unlocking new skins and weapons from the in-game shop
Fun and addictive gameplay
Controls
You can use your mouse or touch controls to play this game.