Play Now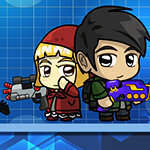 In Zombie Mission 4, the horde of undead have struck again, and it calls the fearless couple to duty. Grab your weapons, and get ready to face these walking dead. Featuring new and challenging levels for you to complete, humanity's fate lies in your hands. Can you get rid of all the zombies and aliens to complete the game without getting a scratch?
Your objective in this game is similar to the other titles of the series. You try to complete each level without dying. You can do that by revealing the exit door by completing all the data disks. To start the game, click on the play button on the main menu. Next, you'll be taken to the level selection screen. There are 18 different levels that you can play, but only the first one is available in the beginning. You can unlock the rest as you complete available levels one by one. You control 2 characters in the game, and they both need each other to solve puzzles and clear the way. You can also play a game with a friend by sharing the keyboard. If a character dies, you'll have to restart.
If you enjoyed this game, be sure to check the previous titles Zombie Mission 2, by clicking here.
Developer
RHM Interactive developed Zombie Mission 4.
Release Date
December 17, 2019
Features
Colorful 2D graphics
18 different levels to complete
Can play solo or with a friend
Intuitive controls
Entertaining and addictive gameplay
Controls
Use the WASD key to move and the F key to shoot with the female character. Use the arrow keys to move and the L key to shoot with the male character. Use the Q and the U keys to change weapons with the female and male character, respectively.