Play Now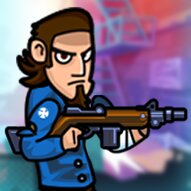 In Dumb Zombie Online, the dead are back in our world, and they seem very much alive! Do you believe you, as one of the survivors, can rid the world of the walking dead and show them that the world belongs to people? If you are ready to show them, let's jump into the game! Have fun!
Do you afraid of zombies? Well, you shouldn't! Because you have been given a mission to destroy them and clean the earth! There are two game modes to choose from. You must complete 15 levels in each mode to unlock the next. To aim in normal mode, hold down the left mouse button and release it when you're ready. Zombies may consume brains, but that does not imply that they are intelligent. Because they only stand in one area, you have a significant advantage. However, there may be obstacles that you must overcome in order to shoot them down. You can ricochet bullets off walls, wait for the right moment to shoot, and murder multiple zombies with a single shot. Because of all the shooting, your bullet supply is limited, so be careful! You must use bombs that detonate after a few seconds in explosive mode. Have fun!
Do you want to play more games like this one? If so, take the different challenges in our collection of free and online zombie games.
Developer
kiz10.com developed Dumb Zombie Online.
Release Date
Jun 25 2021
Features
2 different game modes
New hats, clothes, and weapons to unlock
Fun and addictive gameplay
Nice 2D graphics
Controls
You can use your mouse to play this game.