Play Now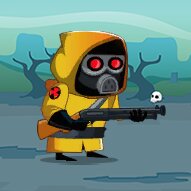 In Zombie Slayer, you were sent to the area where the zombies are to destroy them! That is why they call you zombie slayer, my friend! The walking dead have taken over the planet. Do you think you've got what it takes to survive through the zombie apocalypse? Good luck there!
Your planet is under invasion, and you must do whatever it takes to survive! Zombies are everywhere now, so you have to act very carefully! There is only one person who can fight them, so grab all your weapons and show yourself on the battlefield! In this game, your goal is to complete each mission that is assigned to you. You may need to go to the helicopter, save the girl, or defend the fences. To earn money, go carefully and kill the deads that are creeping out of the earth. If you come too close, they'll eat you. To get weapons or healing kits, destroy the barrels. You don't have many weapon options at the start of the game, but as you earn money, you'll unlock more and even improve them. Don't forget to upgrade your weapons in order to go through all 100 levels. Use grenades and air attacks in difficult situations! Have fun!
If you liked Zombie Slayer, to check our collection of free and online zombie games, click here!
Developer
TrendyGames developed Zombie Slayer.
Release Date
June 04, 2021
Features
Unlockable new guns
Many different missions to complete
Colorful 2D graphics
Intuitive controls
Controls
You can use your WASD keys to move, press K to fire, H to throw a grenade, J to fire rockets, Q to change weapon, and L to use the knife.