Play Now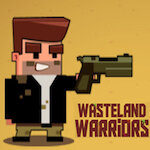 In Wasteland Warriors, the city is under the invasion of scary mutants, and saving this place is all up to you now! You and you alone can be all four warriors at the same time. Kill these creatures before it is too late for humanity and rebuilt peace in the world again. Now, grab your weapons and be ready to attack no matter what it takes!
The time eventually came when the chemicals turn people into deadly mutants. Fortunately, you and your team volunteered to save the world from these creatures. In this fun action game, your objective is to kill as many enemies as possible while trying to survive their attacks. Start the game by clicking the play button and choose the character suits you best by reading their features. You can change your character later on, anytime you want during the game. Once you enter the field, keep your eyes wild open because your enemies can come out of anywhere. Move with WASD keys and use the "R" key to reload your gun when it is necessary. You should left-click to shoot and try to find the first-aid kits after getting shot. Check your life bar from just above your character. You will find some booster boxes increasing your firepower. If you are ready, let the battle begin!
If you want to try another game where you can become the mutant and fight against evil people this time, then be sure to check TMNT Decked Out.
Features
2D colorful graphics
4 character options to select
Various boosters and first-aid kits
Entertaining and addictive gameplay
Controls
The WASD keys to move. The "R" key to reload the gun and left-click to fire.