Play Now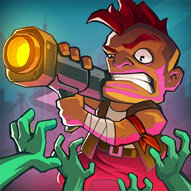 In Zombie Idle Defense, be ready to grab your gun and pull the trigger! The zombie attack is coming, and you need to defend yourself! Or else, you will no longer exist! If you have in mind to stay alive, get your gun and start to fight! Good luck!
It is not a usual thing to be attacked by zombies but guess what! They found you! And now if you really want to stay alive, you should defend yourself to death! There is no other way to survive this! So, if you are ready for this war, grab your best gun, and pull the trigger right away! Your objective is to destroy the zombie attacks and complete all 30 levels. All you need is to click on the screen to shoot the zombies coming in waves. You have to be as quick as possible! They come in large numbers, if they reach the barricade, you may not protect yourself anymore. As you destroy the zombies, you will get coins. Use these coins to buy new soldiers, upgrade weapons or buy supplies. These upgrades may increase your chance to survive, be smart choices! They will be useful when the tougher zombies will come. Defend yourself from the endless waves of the enemy or give up! Good luck with surviving!
If you want to play more zombie games, and try another one similar to Zombie Idle Defense, then be sure to check Zombie Target Shoot, too.
Developer
kiz10.com developed Zombie Idle Defense.
Release Date
March 3, 2021
Features
2D colorful graphics
Entertaining gameplay
30 levels to complete
Intuitive gameplay
Controls
You can use your mouse to play this game.