Play Now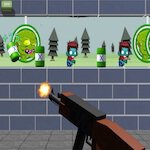 In Zombie Target Shoot, grab your shotgun and test your aiming and shooting skills against zombies. No one knows when the zombie apocalypse will happen, so it's best to be prepared before its too late. With limited ammo, how many points can you earn?
Despite looking realistic and terrifying, these targets are not real. Your objective in this game is to earn as many points as you can by shooting different targets only with 50 bullets. Start the game by clicking on the play button on the main menu. At the bottom center of the screen, you'll see your trusty shotgun. Move your cursor around the screen to change your aim. To shoot, click on the screen. There are 3 different targets that you can fire at. Hitting the boards with the zombie images on them gives you 200 points, if only you shoot it from the eye. The bottles and the zombies in the background give 75 points. In the top left corner of the screen, you can see how many bullets you have. When you run out of ammo, the game will end. You'll see your score on the final screen. Aim well and make sure every bullet counts!
Now that you've practiced, it's time to show those zombies where they belong! Go and play our popular game Zombie Sniper by clicking here. Have fun!
Developer
AdoLux Games developed Zombie Target Shoot.
Release Date
April 24, 2019
Features
Colorful 2D graphics
3 different targets to shoot
Intuitive controls
Entertaining gameplay
Controls
You can play this game with your mouse.