Nine Blocks: Block Puzzle Game
Play Now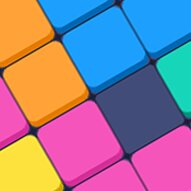 Fill the tiles with the colorful blocks of Nine Blocks: Block Puzzle Game! Place the random shapes on the game table, and fill the horizontal and vertical lines and 9x9 tile groups to score points and clean these areas. Are you a good enough strategizer to plan your moves and stay ready for all incoming shapes?
Lose yourself in this colorful game of logic! Focus and keep trying while your high score increases at each run! You can take the risk and try to play without the boosters, or take it easy and use the boosters to destroy the annoying extra blocks. It's all up to you, but whichever you choose, this game will get you hooked up! You can start your first run when you are ready. Hold and drag the differently-shaped blocks from the right and place them on the table. These blocks are generated randomly, but you will get certain shapes throughout the game, so it's better to get to know them. You can use the boosters above to cover a tile, clean an area, and get new blocks. Infinite playtime offers an endless experience, but you can watch a short ad if you ever come to an end! Good luck!
If you like this shape puzzle, you can check out Wood Block Puzzle 2 and relax with the wooden theme!
Developer
CASUAL AZUR GAMES developed Nine Blocks: Block Puzzle Game.
Release Date
September 13, 2022
Features
Fun and colorful theme
Infinite gameplay
Increasing logic skills
Fun for all ages
Available on mobile devices
Controls
You can use your mouse to play this game.