Play Now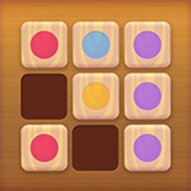 Fill empty spaces to open more with Wood Block Puzzle 2! Your favorite puzzle is back with more colors and satisfying moves, so hold on to your seats, and let's set out on an endless journey! This game has pieces to offer as long as you can keep up with them, so let's get started when you are ready!
You have an empty table divided into squares. When a complete row of these empty tiles is covered with pieces, you score points. Completing this move also clears out that row, leaving you with more space to continue the puzzle. You get new pieces in random shapes; so finding them enough space while leaving more for your next moves can be a little tricky at times. Starting the game from the corners can give you more time before pieces start piling up. Make your priority completing the rows, and always try to leave enough space for the biggest pieces just in case you get them at the next level. Open gift boxes to get special offers and use your hard-earned coins to buy boosters. You can use these boosters when things get messy and you have no other choice. Good luck!
If you like this game, you might also enjoy Wood Block Puzzle, the first game of the series!
Developer
SOFTGAMES – Mobile Entertainment Services GmbH developed Wood Block Puzzle 2.
Release Date
May 23, 2022
Features
Colorful pieces
Relaxing wooden theme
Surprise offers
Unlockable boosters
Available on mobile devices
Controls
You can use your mouse to play this game.