Play Now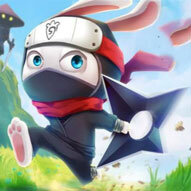 Ninja Rabbit has something on the stock again! The children in the village were taken away by the monster and bearing the expectations of the villagers, the ninja rabbit set off resolutely and embarked on a journey to fight against monsters! Can you accompany him on this journey? Good luck!
Every city needs a superhero, even the citizens of the animal village! Ninja Rabbit is a great hero, but in this vital mission, he needs some support. Can you be the one who will support him and save the kids? Then click on the play button and start the game! your objective is to find the children kept in cages and take them to the finish line. You should also collect as many carrots as you can during the mission. They give energy to the rabbit. To move, throw your hook against the walls and bounce across the roads. If you have rescued the children, they'll follow you around everywhere you go. You will see a finish button when you get to the finish line. To complete the level, click the button. Keep an eye out for possible obstacles. There will be some mechanisms or subjects that will prevent you from continuing. You can also use them to your advantage! Are you ready to jump into this exciting mission and save the kids? Good luck!
If you want to play more adventure games, and try another one similar to Ninja Rabbit, then be sure to check Kumu's Adventure, too.
Developer
Mad Buffer developed Ninja Rabbit.
Release Date
March 23, 2021
Features
2D colorful graphics
12 levels to complete
Cute characters to save
Entertaining and addictive gameplay
Controls
You can use your mouse to play this game.