Play Now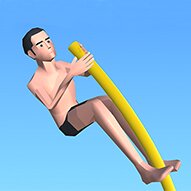 Be a bouncy rubber man with Pokey Stick! Race against other players and the game itself to master the art of pole jumping! Hold onto your stick, flex, and watch your athlete fly away! Limbs will spin, arms will fold, legs will get jelly. Don't worry, he is fine, at least enough to do it again!
You're on a track built in the middle of a sky-colored abyss. There is another track next to yours, with another athlete running on it. Yes, you have to defeat that guy. But don't worry, he is nothing next to the global scoreboard! Click on your character, hold and pull him back, and release! If he doesn't reach the finish line, you can repeat these steps and try to get there before your opponent. Just pull, pull a little more, and send him flying over countless obstacles! Reach the colored multiplier tiles after the finish line to multiply your score by up to eight. Earn badges for your score at every level and move up with these badges on the global scoreboard step by step. Help him fly over the striped, rough track to the colored and safe finish line at once.
If you like challenging skills, you can check out Temple Quest and test your reflexes while running from monsters in a mystical temple!
Developer
Nevar Games developed Pokey Stick.
Release Date
February 25, 2022
Features
Colorful 3D graphics
Easy to play
Funny theme
Available on mobile devices
Controls
You can use your mouse to hold and pull your character.