Play Now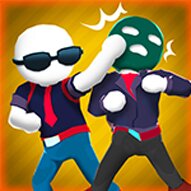 In Gang Fall Party, it is time for fists! In this wonderful io game, gather your might and eliminate your opponents. There is no way back if you fall off the edge of the cliff. You'll be up against gamers from all over the world in this game. Break records, rise to the top of the leaderboard, and show the world who's in charge! If you're up for the challenge, the game can begin right now!
This exciting io fighting game is waiting for you. Your only goal here is to defeat the other players! You'll face off against 16 opponents of various countries and ages. Your goal is to use punches to push your opponents off the platform. When you first start the game, you can choose your character. You'll start with two selections, but as you progress through the game, you'll be able to unlock additional with your money. There are two game modes to choose from. The first is the single-player game, which pits you against 16 random opponents. The second is the 2-player option, which allows you to compete against a friend or with others! In any case, you must be strong! If you die, you will not be able to respawn. You can wait a few minutes before joining another round. Best of luck!
If you want to try another game similar to Gang Fall Party, then be sure to check Crowd City by clicking here.
Developer
RHM Interactive developed Gang Fall Party.
Release Date
August 27, 2021
Features
3D colorful graphics
1-player and 2-player options
Competing against 16 other players
Unlocking new skins from the in-game shop
Controls
Player 1: "W,A,S,D" to move. "C" to run. "V" to punch. Player 2: "Arrows" to move. "O" to run. "P" to punch.