Play Now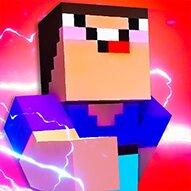 Join Noob and Pro on their latest adventures with Noob Vs Pro 1! Help two best buddies get over obstacles on their path, follow their hearts, and get their revenge from Hacker! Build new skills, get tougher with each try, and follow their hilarious stories! See what waits for them at the end of the story!
Noob and Pro got themselves in trouble once again. Considering their previous journeys, no one's surprised. However, they need help as soon as possible. And what do you get from this? A hilarious story of two buddies. So, wield your diamond sword, grab your best buddy by the hand, and let's go zombie hunting! You play as Pro while Noob follows you around. Run forward, use your sword to cut trees, and take zombies down to keep both characters' health bars full. You have a limited number of lives, and if one character dies, you start over. Kill monsters to get money, and use your money to upgrade your stats. You can increase their lives and movement speeds, attack speed, and attack power. Keep increasing these features to move further each time and reach the end of the chapter to see what awaits these heroes!
If you like the adventures of Noob and Pro, you can check out Monster School Challenges and help our heroes and their classmates pass their exams!
Developer
Noob vs Pro team developed Noob Vs Pro 1.
Release Date
August 16, 2022
Features
Nice graphics
A new chapter of Noob and Pro's adventures!
Improving character stats
Funny characters
Available on mobile
Controls
Use "W, A, S, D" to move, and the spacebar to hit.