Play Now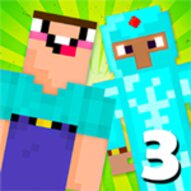 The legendary stories of Noob and Pro continue with Noob Vs Pro 3! Follow their funny adventures, help Noob take revenge for his love, and complete all levels to get an ending to your story! Run in strange lands, kill brain-eating monsters, and evolve with them to keep up with the pace! Can you find Hacker and beat him?
It all starts with a romantic date between Noob and Noobella. While they are exchanging love words, Hacker appears out of nowhere and attacks Noob. Noob tries to reach Noobella to protect her, but it's all in vain! Hacker throws Noob into a portal and locks him in there. Now you are in another land, stuck with Noob far from home. The worse part is that zombie hordes are coming at you, and you have limited energy and nowhere to run! You can start small and shoot zombies that are closer to you. Also, start moving forward and keep your eyes open for any sudden attack. You can only move so far because your energy level is low, but do not worry; each zombie you hunt returns as gold coins, and you can use these coins to upgrade your stats and reach the end! Good luck!
If you like the stories of these two, you can check out Noob vs Pro 2 Jailbreak and take them out of prison!
Developer
Noob vs Pro team developed Noob Vs Pro 3.
Release Date
June 22, 2022
Features
Colorful 2D graphics
Hilarious storyline
Funny character design
Improvable stats
Available on mobile devices
Controls
You can use "W" or the spacebar to move forward and your mouse to shoot.