Noob Vs Pro 4 Lucky Block
Play Now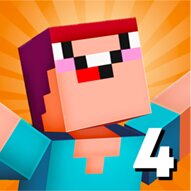 Noob and Pro are on yet another mission, and you are also invited with Noob Vs Pro 4 Lucky Block! Diamond armors, bloodthirsty zombies, and skeleton archers are all set up waiting for you! Grab your best friend Noob, and let's go out on a hunt for the ultimate pizza slice!
The main storyline starts with Noob dreaming of pizzas when Pro saves him from a zombie attack, just like a typical afternoon. Then they set out on a new journey. You get to join them and control both characters; Pro in the front with his sword and Noob hiding behind him. Move ahead fearlessly and smash everything on your way to gain gold coins. You can also attack pigs and chickens to get some extra money. Follow the story and complete all nine chapters to see how things end for our heroes. Check out Noob vs 1000 Zombies mode to activate traps and kill monsters in unique ways using a bow and arrows. Get creative with your instruments and solve puzzles to save yourself from these pits. Finish both modes to improve your aim and timing skills with reflexes and clean this world from brain-eating beasts!
If you like the adventures of Noob and Pro, you can check out Noob vs Pro 2 Jailbreak and keep up with their journeys!
Developer
Noob vs Pro team developed Noob Vs Pro 4 Lucky Block.
Release Date
May 11, 2022
Features
Colorful pixel theme
Cute character design
Exciting storyline
Two game modes
Available on mobile devices
Controls
You can use the arrow keys to move and your mouse to attack.