Noob vs Pro vs Stickman Jailbreak
Play Now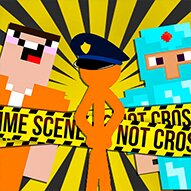 Help Noob and Pro escape prison after an unsuccessful heist with Noob vs Pro vs Stickman Jailbreak! Follow their escape attempts day by day, get caught infinite times, and survive all types of trouble! Trap guards, bring walls down, and find new ways to get dragged into your cell every night!
Our heroes are in big trouble once again. This time, they pulled a heist and still managed to get caught after they ran away. Now they have to serve a long time in prison. Of course, Noob is not fascinated by this idea, while Pro is okay with sleeping for years. You can join their adventure by shooting the car and helicopter chasing after you. Then, you can welcome your days in jail. Forget about Pro; he just needs some sleep. Feed Noob cola and pizza to give him the energy he needs, and start digging tunnels! These tunnels will end up in new adventures every night. The odds of him actually escaping are slim, but focus on the story and keep giving your hero chances. Try new tactics, hold onto your hope, and keep digging! Follow the story to see how our heroes will find their way out!
If you like this new chapter of Noob and Pro's story, you can check out Battle Royale Noob vs Pro and start working on your survival skills!
Developer
Stickman vs Monster School Team developed Noob vs Pro vs Stickman Jailbreak.
Release Date
August 23, 2022
Features
Noob and Pro as characters!
A hilarious story
Addictive levels
Improving puzzle-solving skills
Available on mobile
Controls
Use the arrow keys or mouse to play.