Play Now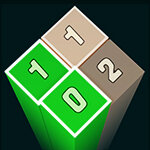 In Nummzle, get ready to play with numbers and colors. Counting is one of the primary skills taught in school, but a little practice never hurts. Whether you're a younger player or an experienced gamer, we're sure you'll love this game. Start playing now.
Numbers are mysterious and fun. Your objective in this game is to complete each level by coloring the numbers you see in the increasing order. Each level has a different design, and you should figure out how to cover all the tiles. To start the game, click on the screen. In the earlier levels, your job is relatively easy. As the tiles are few and you have to deal with just one color. As you progress through the game, new levels will introduce more challenges. Click on tile with the zero and then try to light up each tile with the numbers in the increasing order. If you make a mistake or want to change the line, you can click on a tile to reset the tiles you've clicked after it. You complete a level when you cover all the tiles correctly. Have fun playing!
Looking for more? Then keep on gaming! Go ahead and try our other challenging and fun title, Fit in the Wall. Enjoy playing our games for free and online!
Developer
Lightning Strike Games developed Nummzle.
Features
Colorful 3D graphics
Entertaining gameplay
Lots of challenging levels to complete
Intuitive controls
Controls
You can use your mouse to play this game.