Play Now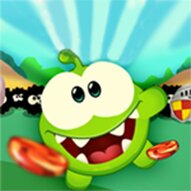 Take Om Nom's side against spider wizards and creepy bosses with Om Nom Bounce! Our adorable green friend is in a lot of trouble and needs your strategy skills against the incoming monster attacks! He only has one boomerang candy, but don't worry, you will get to improve against stronger and more challenging enemy attacks!
Say hi to Om Nom; his professions are eating and aiming, and he loves to use candies for both! He loves using his candy weapons against the monsters of the forest as much as he loves sweets. The attacks are a bit heavier this time, so he might need a hand from a human friend like yourself! Follow his story, keep Om Nom and his candies safe, and make friends along the way! Aim at the walls or directly at your enemies to send a candy that way. These sweets you throw deal some damage to the enemies, but you must collect more ammo to deal heavier damage at once. The monsters get one step closer to you each turn, so you must start by those closest to you, and plan carefully to stay safe. Improve your stats by stopping by the Talent Tree, and get stronger against more challenging enemies!
If you like this turn-based adventure, you can check out our Strategy Games to find more games like this!
Developer
Zeptolab UK Limited developed Om Nom Bounce.
Release Date
June 13, 2022
Features
Adorable character designs
Colorful graphics
Improvable skills
Increasing difficulty and boss fights
Available on mobile devices
Controls
You can use your mouse to play this game.